Providing Honest, Excellent Dental Care for Your Family
Emergency Dental Care in San Tan Valley, AZ
 No matter how well we care for our teeth, accidents happen and you or a member of your family may one day need emergency dental care. Whether it's a broken tooth, bleeding, or a severe toothache that just won't quit, San Tan Family Dentistry offers same-day and after-hours emergency dental services to fix any problem and get you smiling again.
When To Visit for  Emergency Dentistry
Severely Cracked or Chipped Teeth:

while a chipped tooth isn't always an immediate cause for concern, if the area is extremely painful or the broken tooth has a sharp edge that is causing damage to other parts of your mouth it is considered an emergency.

Bleeding and severe pain
Tooth abscess:

an abscess indicates infection and if left untreated can spread throughout your body 

Knocked out tooth:

In the event you have a tooth knocked out, pick up the tooth by the crown avoiding the roots and gently rinse it off if it's dirty, then try to place it back in the socket. If you can't get it back into the socket, place it in a small container with milk. Get to an

emergency dentist

as soon as possible to maximize your chances of saving the tooth.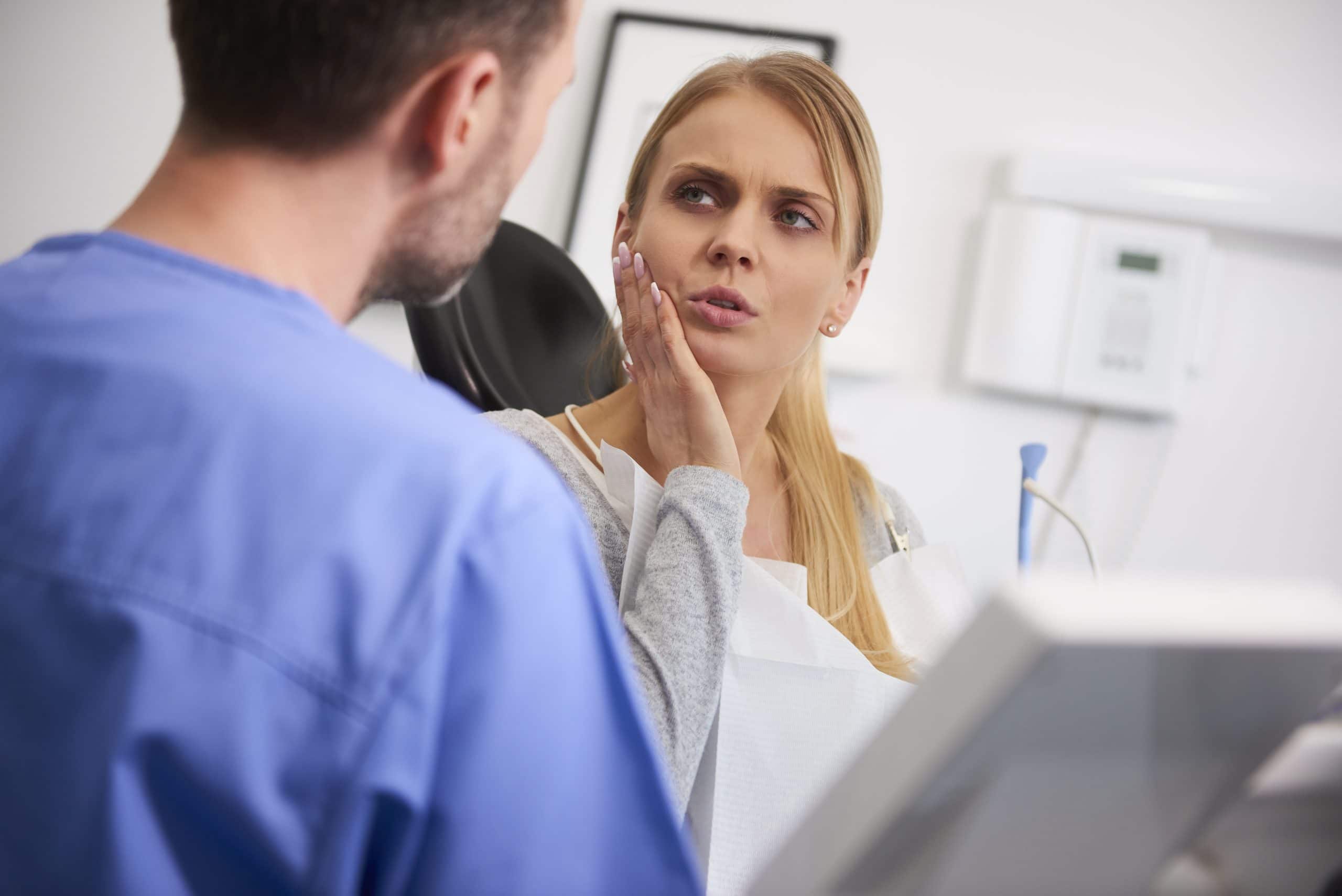 What Does NOT Require an Emergency Dentist
While they may be a nuisance or even a bit painful, the following are not considered dental emergencies:
Chipped teeth

Minor toothaches

Bites to the lips, tongue, or cheeks

Objects stuck in teeth
Please call to schedule a regular dental appointment with San Tan Family Dentistry to treat any of these non-emergency dental issues. If a toothache or other condition worsens please do not hesitate to call us so we can thoroughly talk about the problem you are experiencing and discuss whether you need emergency dental care.
Tips For Managing Minor Dental Pain
Over-the-counter pain relievers: help reduce the pain and reduce swelling

Salt and hot water: rinse with salt and warm water to reduce irritation and aching

Ice or Cold Compress: used to relieve pain and also reduce swelling. Place ice in a washcloth and hold it against the affected area for 15-minute increments.
How Do I Avoid Needing Emergency Dentistry?
Dental emergencies cause pain, potentially long-term damages, and sometimes require expensive, invasive restorative procedures. The primary way to prevent a dental emergency is to maintain a healthy oral hygiene habit that includes twice-daily brushing and flossing and regular dental appointments with Dr. Thomas twice a year for a thorough cleaning and examination.
 Other ways to avoid potential injuries or problems that may require an emergency dental appointment include not chewing on ice and hard foods. Do not chew anything that is not food or use your teeth to tear open packaging. While playing contact sports, wear a mouthguard that is custom-fitted by Dr. Thomas and his team to further reduce the chances of injuries that may require emergency dental care.
Call Us if You Need an Emergency Dentist!
No need to wait or try to ride out any pain or discomfort in your teeth or mouth. Call San Tan Family Dentistry right away if you have a dental emergency and trust that you'll receive complete emergency dental care. We'll schedule you to be seen by Dr. Thomas and his highly skilled team of dental care professionals as soon as possible to address any dental emergency you may have and get you back to smiling.