Providing Honest, Excellent Dental Care for Your Family
Pediatric Dentistry in San Tan Valley, AZ
San Tan Family Dentistry is your trusted choice for pediatric dentistry in San Tan Valley, AZ. Children of all ages are welcome in our family dental office. Our team enjoys taking care of children's teeth, and we consider it a pleasure to help all our young patients feel more comfortable during their appointment. The same great dental services we provide to our adult patients are also available to children, including routine preventive care, orthodontics, restorative work, and emergency services.
Overview of Children's Dentistry
Your child's first dental appointment can be as early as the appearance of their first teeth. It's a good idea to visit the dentist before there is a problem, rather than wait until the problem occurs. Plus, getting into the habit of seeing the dentist every six months helps children feel more comfortable when it is time for an appointment. 
At San Tan Family Dentistry, we strongly believe that a healthy mouth is vital to keeping your entire body healthy. Keeping tooth decay at bay is also important because dealing with cavities is not pleasant, no matter your age. Untreated cavities can also lead to more serious health issues. Part of pediatric dental care is helping children develop good oral hygiene habits, hopefully extending into a lifetime of taking great care of their teeth and gums!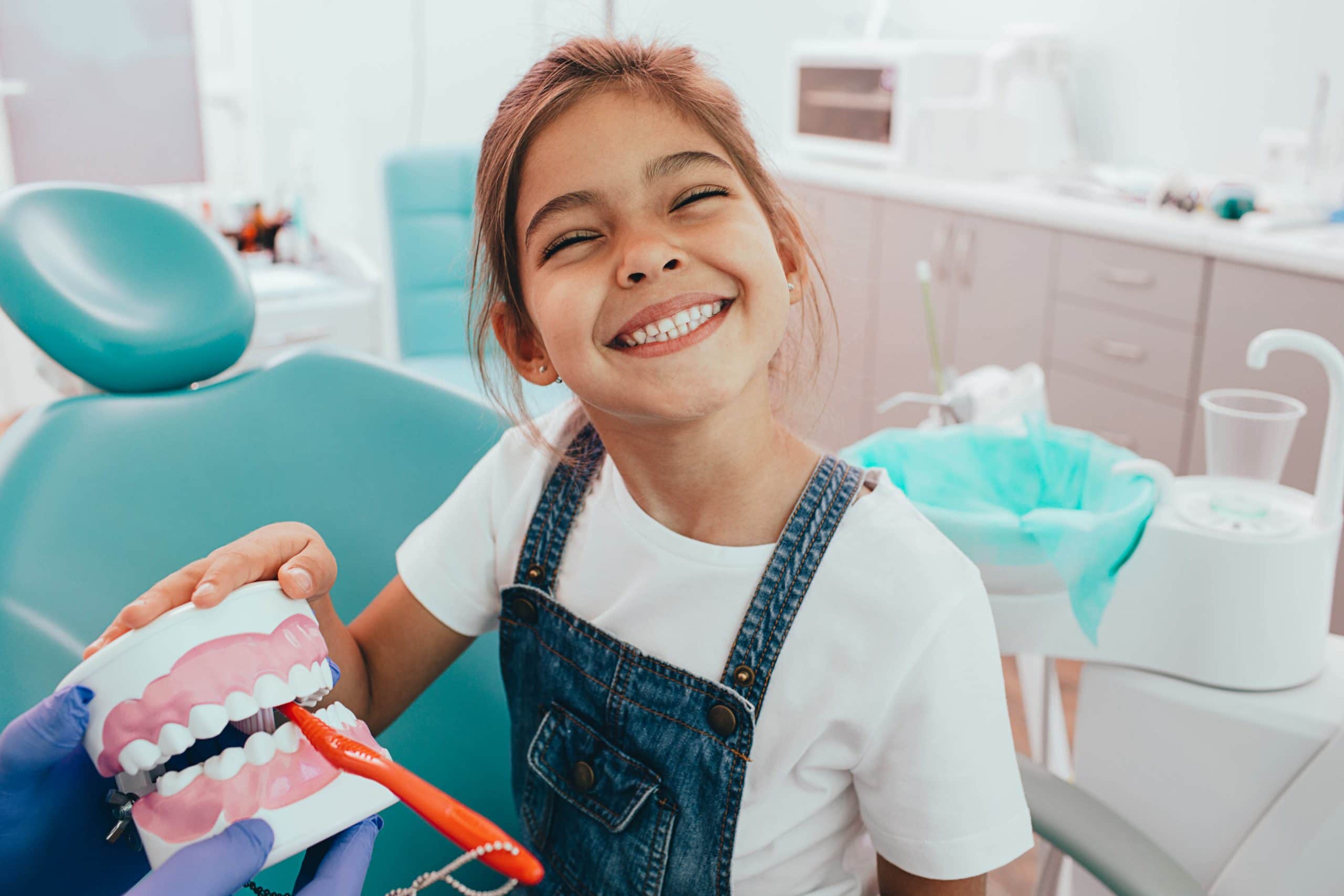 Preparing For Your Kid's Dental Appointment
If your child has been going to the dentist since their first tooth came in, they will likely already be comfortable with visiting the dentist. Making pediatric dentist appointments routine and a regular part of your child's life is the best way to reduce anxiety. Speak positively about the upcoming appointment, the dental staff, and your own dental appointments. Let your child know that the dentist helps keep their mouth healthy and clean.
Pediatric Dentistry Costs
A family dental insurance plan will most likely  cover all  or part of your child's dental care costs. If you have questions about the costs of any of our services, please let us know.
What Happens at Your Child's Dentist Appointment?
Here's what you can expect during your child's dentist appointment:
Professional teeth cleaning.

Our hygienists will gently clean your child's teeth, removing plaque and tartar that have built up since the last appointment. We show each tool to your child beforehand, so they can see it and learn a little about it before it is used.

X-rays and exams.

We will take x-rays of your child's teeth, and the dentist will examine the x-rays closely. We have a special machine that makes taking x-rays very easy, even for patients that are gaggers! We will also do an exam of your child's mouth and teeth, looking for any problems, such as cavities, gum disease, or unusual development of the teeth and facial structure.

Airway Assessment.

We will assess your child's airway, and discuss any issues that might be associated with sleep disordered breathing, as well as the orthodontic effects related to pediatric sleep apnea.  

Treatment planning.

If treatments are necessary, we will discuss this with the parent. It's our goal to be as informative as possible so that you can make an educated decision concerning your

child's dental care

.

Additional treatments.

Other treatments we may recommend include dental sealants to protect back teeth from cavities and fluoride to prevent decay and strengthen your child's teeth.

Referral.

We can handle most of your

child's dental care

at our office. We will refer you to a specialist, such as a

pediatric dentist,

if there is something outside our expertise.
Children's Dental Care at San Tan Family Dentistry
We are your family dental care experts in San Tan Valley, Arizona. We take care of everyone, including children. Our staff is warm and welcoming, making it possible to have good memories and associations with the dentist's office. Most of all, we strive to do what is best for your child's dental health. Please contact us today to schedule your child's next dental appointment.