Providing Honest, Excellent Dental Care for Your Family
Invisalign® Treatment in San Tan Valley, AZ
San Tan Family Dentistry is proud to offer Invisalign aligners as one of our premier orthodontics services. Invisalign involves using a series of removable, clear aligners to move the teeth gently and gradually into their optimal positions.
Invisalign treatment offers flexibility in getting that smile you've always wanted – faster and without the brackets and wires of traditional metal or ceramic braces. Clear aligners are made from plastic polymers that become moldable at high temperatures. Sets of Invisalign aligners are custom fit and worn for about 22 hours a day for up to two weeks before patients advance to the next set.
What are the Benefits of Invisalign Treatment?
At San Tan Family Dentistry, all orthodontic services have the same goal. Although the results are similar, clear aligners offer several benefits over traditional braces:
Worn as recommended,

Invisalign

straightens teeth faster in many cases.

Aligners are more comfortable: you'll still experience some discomfort as your teeth move, but you won't have to deal with the brackets and wires that come with traditional braces.

Clear aligners

are not as noticeable.

Clear aligners

are removable, so you can still enjoy all of your favorite foods without having to worry about damaging your appliance.

You brush and floss as you usually would versus having to work around a mouthful of brackets and wires. 

Using

Invisalign aligners

generally involves fewer visits to the dentist.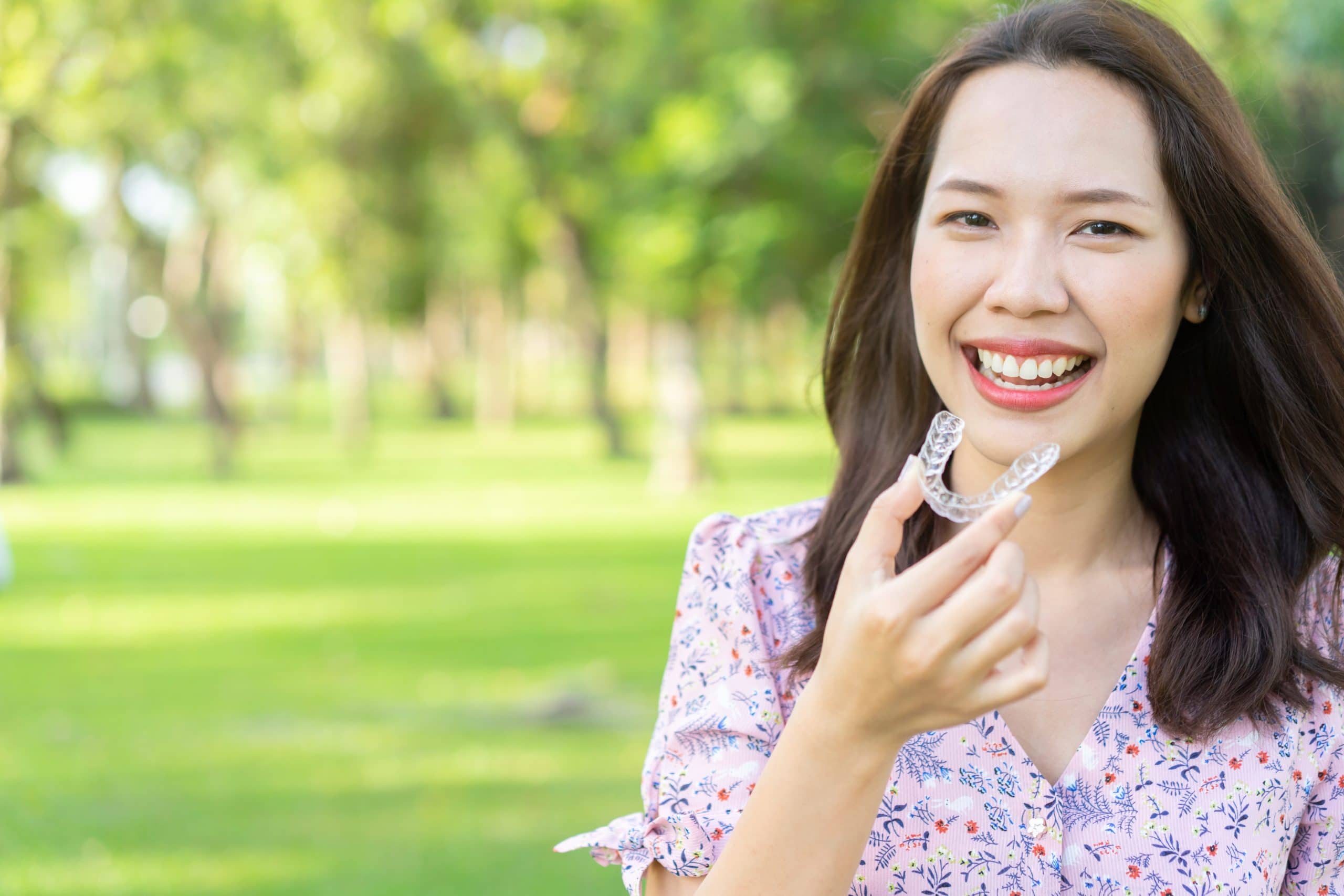 What Kinds of Conditions Can Clear Aligners Treat?
Invisalign clear aligners  are effective in treating an array of teeth alignment and jaw issues, including:
Bite problems

Crooked teeth

Gaps between the teeth
After treatment, your teeth are easier to keep clean since they are both straight and evenly spaced apart. This lowers your chances for future dental issues such as tooth decay since it's easier to brush and floss away food particles.
How Long Does it Take for Invisalign Aligners to Work?
Most patients who choose Invisalign treatment wear their clear aligners for 12 to 18 months to get their desired results. The treatment time will vary, however, by each patient's unique needs and their daily use of the aligners. Wearing the aligners for less than the recommended time each day may increase the total length of your treatment.
Are Clear Aligners Right For Me?
Clear aligners are not right for every case, but if you've been putting off orthodontic treatment due to aesthetic and comfort concerns, Invisalign treatment may be for you! Once you come in for a consultation, Dr. Thomas will determine if you are a good candidate for clear aligners. 
Schedule Your Invisalign Appointment Today!
With his advanced training and 17 years of Invisalign experience, Dr. Thomas provides patients throughout San Tan Valley with the latest, most advanced Invisalign services and treatment available. Schedule a dental appointment with Dr. Thomas and our experienced team at San Tan Family Dentistry today to learn about Invisalign treatment and see if it is right for you! We'll help you get the smile you always wanted.